The thrill of casting our votes on election days is well known, but did you know that they have also become highly popular on Social media polls? Using social media polls for your business is something we'll explore today. Here's how you can create them and how you can use them.
How do polls work?
Followers can answer a question using a poll and choose from set responses. There are always a minimum of two options for people to choose from. They tap their answer and then they'll see how the voting has progressed. A poll question might be:
Q: What are Jaffa cakes?
A1: The cake
A2: The biscuit
In addition to being a quick and easy way to gauge opinion immediately, polls can be used for a variety of other purposes, as we'll see with a few examples. In addition, you can offer 'other' as an option if you'd like to encourage suggestions from your followers since they force voters to choose from set options rather than coming up with their own ideas.
How polls benefit businesses
People are more likely to engage in a poll when they can respond with minimal effort. A poll takes a split second to answer because the options are already available – a bit like answering multiple-choice questions in an exam versus answering an essay question.
As a result, polls are attractive when users are scrolling through a news feed during idle moments; on the other hand, typing a reply from scratch takes a lot longer. On Twitter, polls also stand out visually, making them more likely to be noticed and responded to.
Additionally, the fact that some polls show the results after voting encourages people to participate, as those who are curious about the results must vote in order to see them. They might also be interested in seeing whether their answer is the more popular one.
As a result of all this, you can get your brand in front of a wider audience, which is a great benefit since it increases your exposure and has the potential to grow your customer base. Polls can also be used to gain valuable feedback and market research for your business. For example, you can use them to:
Your followers can contribute to your decision-making process by providing feedback on your existing products and services. Getting your followers' feedback is not only helpful for your product development, but it will also show you care about their opinions.
By asking your followers to vote on new product or service ideas or tell you which features or benefits are most valuable to them, you can conduct market research.
To find out which method is most popular with your audience and therefore worth putting more time into, ask about their preferences, such as preferred modes of communication.
Furthermore, you can have some fun with polls, and being creative with them can give your brand a much broader reach. This could be something as simple as a snail race or as complex as Richard Osman's World Cup of Biscuits, which involved eight groups of biscuits in several rounds of elimination for Red Nose Day.
Over the harsh winter just past, one particularly memorable example was Doncaster Council's poll to name its new gritter lorries.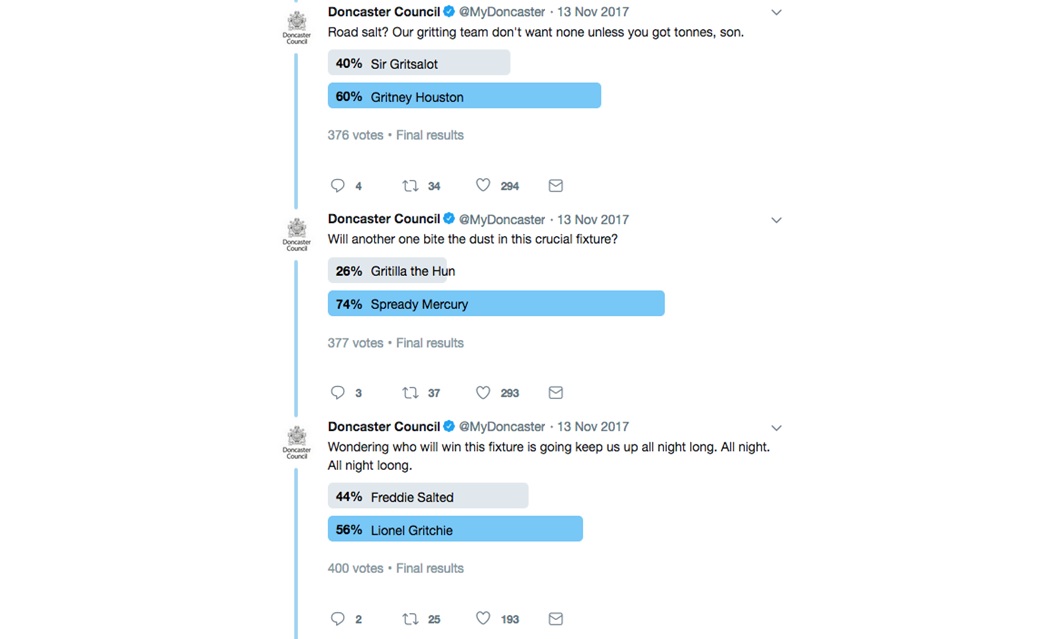 Read also: What Is The Benefit Of Social Media Marketing?
In addition to that, you can have some fun with polls, and creative ways to implement them can give your brand a much broader reach. As simple as a snail race, or as complex as Richard Osman's World Cup of Biscuits, involving eight groups of biscuits in several rounds of elimination for Red Nose Day.
Read also: What is the Role of SEO in Digital Marketing?
One particularly memorable example from the harsh winter that just ended was the poll Doncaster Council conducted to name its new gritter lorries.
The best way to add a poll to your social media post
Taking advantage of the power of polls and boosting your business's Social media polls presence, couldn't be easier. In this article, we'll look at Facebook, Twitter, and Instagram Stories as the top Social media polls platforms you can use to add a poll for quizzing your followers.
Using Facebook:
On Facebook, you can add a poll when you start writing a new post by clicking the three-dot button and selecting "poll".
Read also: Blogging Tips – What to Do When Your Tactic Is Not Working?
There can be no more than two options, and each option can have no more than 25 characters. You can also illustrate each option with a photo or gif by clicking the appropriate icon. Depending on your preference, you can set a response time period of a day, a week, never (no expiration date), and custom date. Voting in a Facebook poll isn't anonymous – people's answers are visible to the poll creator and other voters, so that may deter some followers from participating.
Twitter
You'll see an icon for the poll when you compose a tweet on Twitter.
Read also: Choosing the Right SEO Agency for Your Adelaide Business
The buttons give you a minimum of two and a maximum of four responses, so they're more flexible than Facebook polls (though you can't add images or gifs to them). Each choice can be up to 25 characters long.
In your tweet, you can specify the number of days, hours, and minutes you want the poll to run within this timeframe. You won't be able to vote in your own tweet, but you'll be able to follow the voting results through the tweet. Twitter polls, unlike Facebook, allow anonymous voting, so if you have a question you want to be answered but do not want users to answer publicly, Twitter might be a better choice.
Instagram
To make a poll on Instagram, go to Stories, choose a photo (or text mode), then click on the sticker button at the top. Select 'poll' and you'll get a very simple poll that allows you to type the question and two possible responses of up to 26 characters each. Place the poll where you want it on the image and resize it by dragging and dropping.
You can view the results of these polls and their results as long as the story lasts, 24 hours – in the same place you see who viewed your story. Voting is not anonymous, so you will see who voted for what (but unlike Facebook, voters won't see each other's votes).
Here are a few final tips for effectively using polls.
The following are a few other factors to consider if you want to increase the number of people who respond to your Social media polls surveys.
To encourage followers to spread the word about your poll, ask for retweets or shares – "vote then RT!"
Polls on trending topics are great for capitalizing on existing interest as a result of existing attention
You should keep in mind that Twitter is better for more sensitive questions since the votes are anonymous. Public voting may deter some people from responding.
Finally, you might consider collating the results into a blog post or even an infographic to make the most of your poll or series of polls. As an example, if you were operating a garden center you might run a series of polls on the nation's favorite plant, with different rounds for each category (flowers, shrubs, trees, etc), and then pit the winners against each other to determine one overall winner.  A visual infographic illustrating the different types of plants would make an excellent blog post, and the results of the research could be displayed visually in an infographic.