The Outlook.com (formerly Hotmail) webmail service, from Microsoft, allows you to create new contacts or add email addresses to your contacts list in different ways. Read on for instructions.
Your contacts list section in Outlook.com has been rebranded by Microsoft as 'People'. Contacts can be created directly within this section, or you can add an email sender to your contacts when you receive an email. There are two distinct approaches (and the latter is not immediately evident), but once you use both, it becomes second nature.
Please note that this article is for users of Microsoft webmail accounts, such as Outlook.com, Hotmail, and Live.com, logging in via Outlook.com. Using Google Gmail is not the same as using Microsoft Outlook, a program on your desktop.
The first method – Adding contacts to People in Outlook.com
Contacts are the name of the contacts section on Outlook.com. The location of this message may not immediately be apparent when you visit your inbox.
There is a nine-dots icon in the top-left corner of the screen that reveals all the tools and web apps you can use with Microsoft's online services. You can open the People section in your browser by selecting the People icon from these.
The list here contains all your existing contacts, alphabetical by name. Adding one is as simple as selecting the + New icon, then selecting Contact. If you have not done so already, enter the details for your contact (at least a name and an email address) and save your changes.
The second method – importing contacts from an email into Outlook.com
It is easier to use this method if you would prefer to stay within your inbox rather than move from the inbox to the People section (as in Method 1). Furthermore, it prevents human error that could result from typing someone's address or other details incorrectly.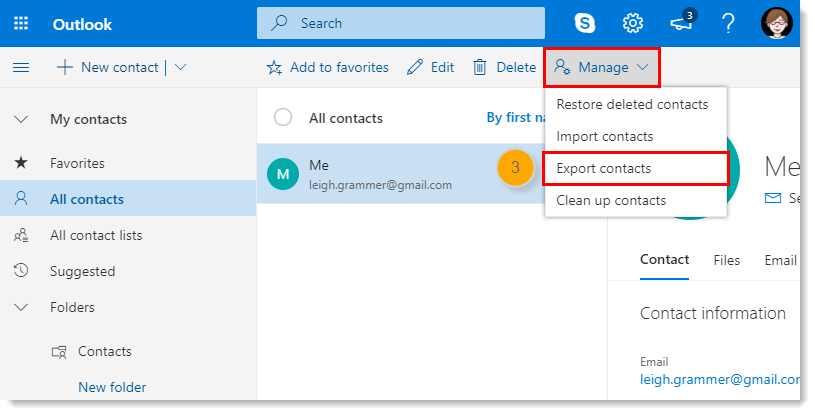 The circle icon with their name or initials in it will appear when you receive an email from someone you would like to add to your contacts.
Select 'more actions' by clicking the three dots.
You can edit the contact information in the Add Contact pop-up window, including name, last name, email address, phone number, address, other, and notes.
You can now save the contact to your People address book as a contact by selecting Save at the top.